Associação de Apoio à Criança e ao Adoslecente is a non-profit organization that offers complementary activities after regular school hours for children and adolescents in order to contribute to the development of citizenship and guarantee of fundamental rights.
AACA provides social-educational activities, human formation and classes of arts, music, culture, sports and informatics.  At the end of each activity, children and adolescents are offered a complete and nutritious meal.
How did we help?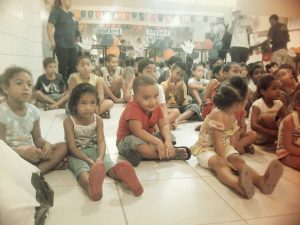 Silent Voices became aware of the plight of Cristian Adrian through the AACA, an institution that since 1994 has ensured the fundamental rights of children and adolescents in the Island of Santa Terezinha in Recife (Brazil). Cristian's mother is unemployed and father is incarcerated for drug trafficking, leaving him few opportunities due to an unstable home.
Cristian lives with his mother and brother Wyllian in the house of his maternal grandparents. His grandfather works as a street-sweeper, and his grandmother as a day laborer.  His dream was to enter the AACA, where he could eat, receive tutoring, and take classes in computer science, capoeira, and dance.
Since we believe that education is an indispensable tool in order to build a better future, we decided to sponsor his membership at the AACA, enhancing his quality of life and supporting a brighter future.
This provides an escape from the drug traffickers and crime of his neighborhood. He is enriched by the care of the project coordinators, who make an exceptional effort to form young men who seek peace, brotherhood, solidarity and love.